Games that hook you. And stab you!
Hey there! Welcome to this, the digital warehouse of Glaive Guisarme Games. Here, I make tabletop RPGs and story games that rarely feature polearms of any sort, but embody what might be considered the spirit of the glaive-guisarme: ludicrous, unwieldy, and deadly in skilled hands.
I'm Lara Paige Turner (formerly "Edward Turner" or "EddlyT," If you find some branding in older games that I haven't corrected, please let me know!). I'm a queer, trans indie designer from the Pacific Northwest. If you want to learn more about me or other games I've worked on, visit GlaiveGuisarme.com.
I also have a Patreon, although that's currently on hiatus as I'm focusing more of my personal time on sorting out, like, personal stuff.
You may also be interested in Unplaytested, where I join my friend Alex and a series of special guests from the RPG sphere to write RPGs from scratch based on ludicrous suggestions. Check us out!
--
Important note: Fascists and bigots are not allowed to buy my games. They are not for you.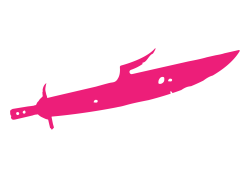 Some of my favorite games are there on the sidebar to the right, and everything is below, roughly organized into categories.
---